Nothing Compares to CocoGevity Plus™
CocoGevity Plus combines smooth and velvety rich dark chocolate with exotic fruits and botanicals to deliver powerful bioactive nutrients which may support heart health, immune function, and many other aspects of health.*




Dark chocolate boasts one of the highest known concentrations of flavonoids, a powerful class of antioxidants which may promote a wide range of health benefits, including heart health, immune function. With CocoGevity Plus™, we've made dark chocolate even better — by adding exotic fruits such as mangosteen, goji/wolfberry, açaí berry, red sour cherry and cupuacu; and herbs such as piper nigrum, and momordica charantia — to bring you a delicious, healthful treat and with only 19 calories per serving, CocoGevity Plus is the ultimate guilt-free experience..*




WARNING: If you are pregnant, nursing or taking medications, consult with your healthcare professional before using this product. KEEP OUT OF REACH OF CHILDREN.




DIRECTIONS:

Shake well before using.
Refrigerate after opening.
Suggested as a food for special dietary use.




SUGGESTED USE: Adults, mix one ounce per 100 pounds of body weight, 1 to 2 times daily. For children, one teaspoon for every 25 pounds body weight.




The Gold Standard for Antioxidant Support!

High ORAC Score at 135000 per Liter - That's 3994 per ounce!


(As Tested by UBE Analytical Laboratories (ID Test# 09-01043)

Contains High-Quality, Antioxidant Rich Cocoa
Supports & Promotes Optimal Health an Wellness†
Contains the Most Popular Exotic Health Juices from around the world: Açaí, Mangosteen, Cupuaçu, Goji Berry & Cherry.
No added sweeteners or sugars
Whole Exotic food juices
Supports and promotes healthy immune system function, healthy blood pressure, healthy blood sugar levels, healthy cardiovascular function†
Boosts energy, mood and libido†
| | | |
| --- | --- | --- |
| | | |
Ingredient Details
Dark Chocolate is world-renown for its high antioxidant value, supporting optimal health and wellness. TLC has taken this to a new level of nutritional value with the addition of highly sought after exotic fruits from around the world, including Açaí, Mangosteen, Cupuaçu, Goji (Wolfberrry) and Cherry.
Açaí, the fruit of a palm tree ("The Tree of Life") that grows in the rainforests of the Amazon, is known to have ten times more antioxidants than red grapes and 10 to 30 times the anthocyanins (polyphenols that give fruits and vegetables their deep color and are high in antioxidant value) of red wine! Antioxidants, which include the Vitamins C and E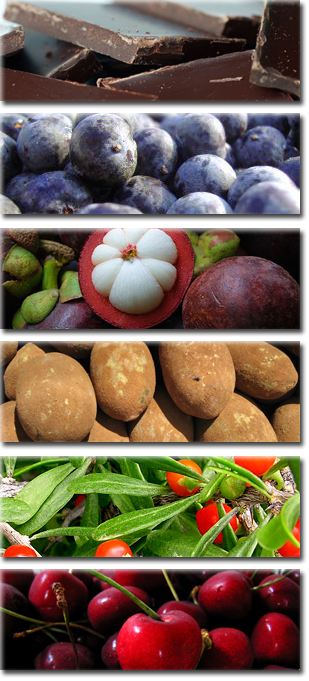 that are found in the Açaí fruit, help to neutralize oxygen-free radicals, which are an unhealthy by-product of the process the body uses to turn food into energy. Açaí also has a high concentration of Omega 6 and Omega 9 fatty acids, which help fight the buildup of LDL, or bad cholesterol, in the body while also helping support HDL, or good cholesterol. The benefits of Açaí are endless, as they promote cardiovascular and digestive health and contain a large range of vitamins and nutrients including Vitamins B1, B2, B3, C, E, Potassium, Zinc, Magnesium and Phosphorus.
Mangosteen is recognized for the incredibly potent antioxidant power of its phytonutrient xanthones. Xanthones are the most highly active antioxidants found in the mangosteen fruit and come predominately from the rind or outer shell portion of the fruit. Xanthones are a biological class of phytonutrients that are very stable and have been found to exhibit strong antioxidant activity. Mangosteen has over 40 naturally occurring xanthones!
From deep in the Amazon Rainforest comes a delicious exotic fruit called the Cupuaçu (pronounced coo-poo-ah-sue). Known as "The Taste of Brazil", this fruit is used in juices, jams and other tasty treats. In addition to its many antioxidant properties, Cupuaçu has been touted as supporting a healthy digestive tract, boosting the immune system and promoting energy and libido†. This highly sought-after fruit contains phytonutrients called polyphenols and theograndins (super-antioxidants) and several other antioxidants including vitamins A, C, B1, B2, B3 as well as essential fatty acids and amino acids – which is why we call it a complete super-fruit!
Goji berry is the common name for the fruit of two very closely related species: Lycium barbarum and L. chinense, two species of boxthorn in the family Solanaceae. Although its original habitat is obscure (probably southeastern Europe to southwest Asia), goji berry species currently grow in many world regions.
The cherry belongs to the family Rosaceae, genus Prunus, along with almonds, peaches, plums, apricots and bird cherries. The subgenus is native to the temperate regions of the Northern Hemisphere, with two species in America, three in Europe, and the remainder in Asia. Cherries contain anthocyanins, the red pigment in berries. Cherry anthocyanins have been shown to reduce pain and inflammation in rats. Anthocyanins are also potent antioxidants under active research for a variety of potential health benefits.
†These statements have not been evaluated by the FDA. This is not intended to diagnose, treat, cure or prevent any diseases.
CALIFORNIA PROPOSTION 65 WARNING: Some products listed on this website may contain chemicals known to the State of California to cause cancer, birth defects or other reproductive harm.